ABOUT
Red Point Artists Association brings together Artists, Artisans, Craftspeople and Art Students in all disciplines to advance the visual arts in the Illawarra and beyond. Formed in May 2008, RPAA established workshops, studios and an exhibition gallery in Port Kembla where established and emerging artists could show their work inexpensively. Present and former members exhibit their work in many galleries in eastern Australia from North Queensland to Tasmania. Building on five years' experience as an association, and combining the skills and knowledge of members and colleagues, RPAA now offers top quality intensive art classes over four terms a year. 2013 WINNER: of the "Wollongong Community Award 2013" at the Australia Day awards dinner. "Outstanding contribution to the Port Kembla community and the revitalisation of the Billy Cart Derby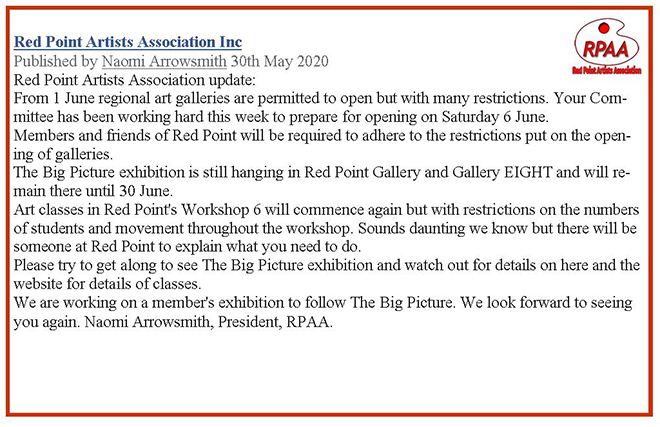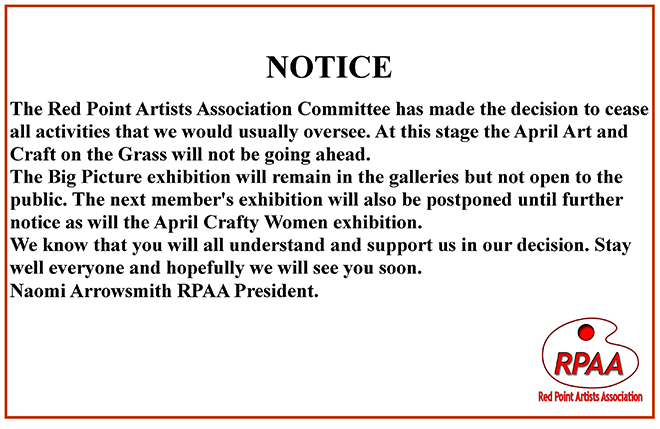 ARTIST SPOTLIGHT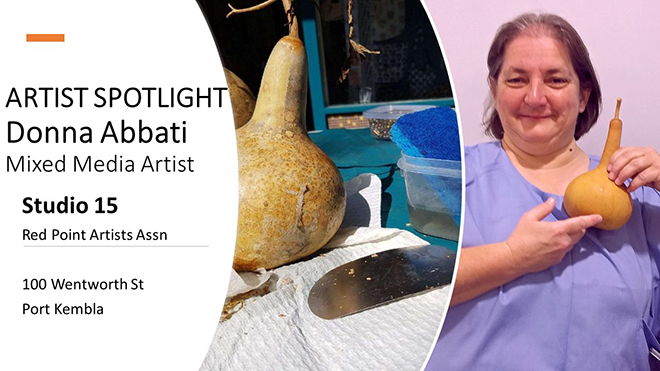 Artists Spotlight Donna Abbati
Download or view Donna's Story: artist questions Donna April 2020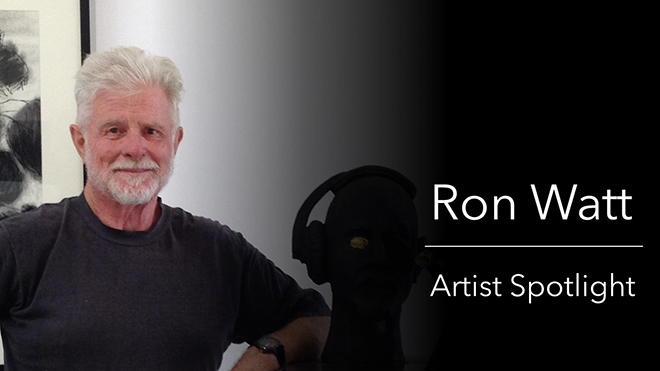 Artists Spotlight Ron Watt
Download or view Ron's Story: This months Artists Spotlight with Ron Watt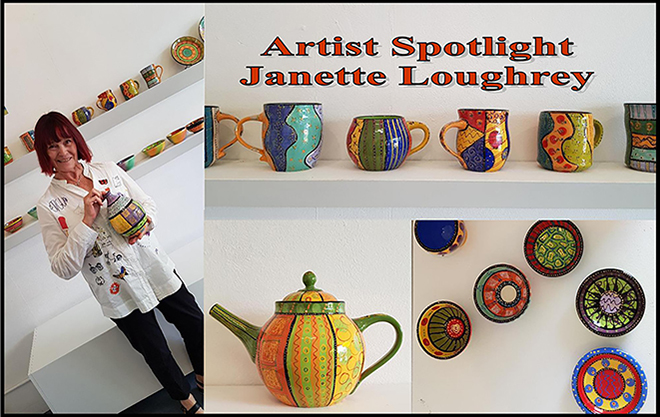 Artist Spotlight: Janette Loughrey
View her story click here  Red Point Artists Assn members
ART and CRAFT on the GRASS
Art and craft market by members of Red Point Artists Association on the second Saturday of the month except January.
Located in the courtyard at 100 Wentworth Street, Port Kembla 2505
Open from 10am – 2.30pm  the event is held regardless of weather as we move the stalls indoors.
Lovely grassed courtyard surrounded by artists studios, Red Point Gallery,
Gallery EIGHT workshops and the delightful Art House Cafe for fresh food and coffee.
Red Point Artists Members
Art and Craft on the Grass, Red Point Artists, Port Kembla
Next Art and Craft on the Grass Saturday April 11th 2020
Bookings Naomi Arrowsmith 0491 115 705
Art and Craft on the Grass is an all weather event
BLOG/NEWS
Opening of the International Women's Day Exhibition
President Naomi Arrowsmith, Stephanee Horton Guest Speaker,
Renay Horton and Dulcie Dal Molin Life Member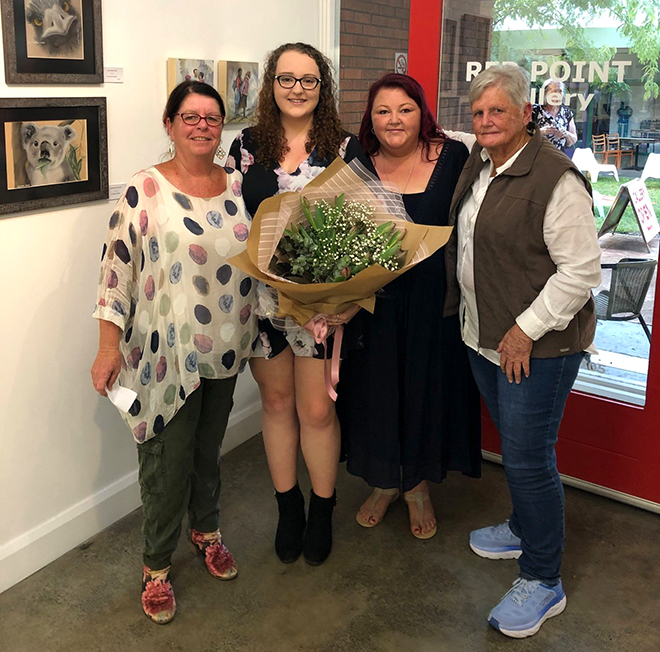 Opening Of Gallery EIGHT by Paul Scully MP
Sue Buckton, Ron Watt and Paul Scully MP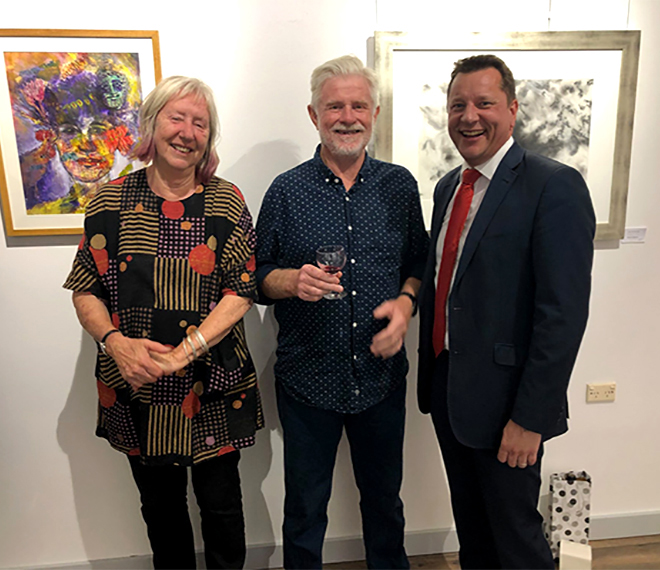 Winner of the BIG toilet roll auction raising money for the RFS Paul Scully MP
President Naomi Arrowsmith and Paul Scully MP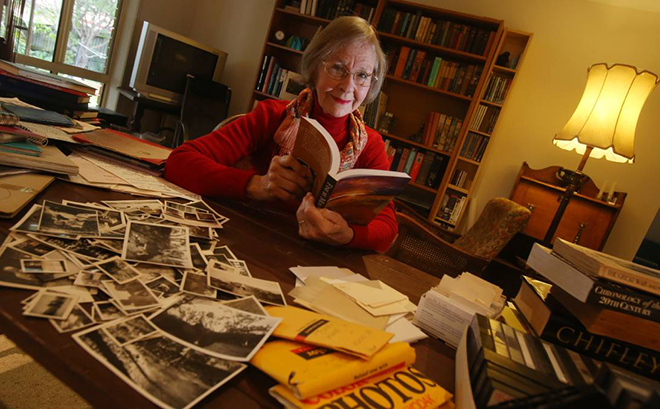 Life Member Wynne Gibson
HIRE OF RED POINT GALLERY and GALLERY EIGHT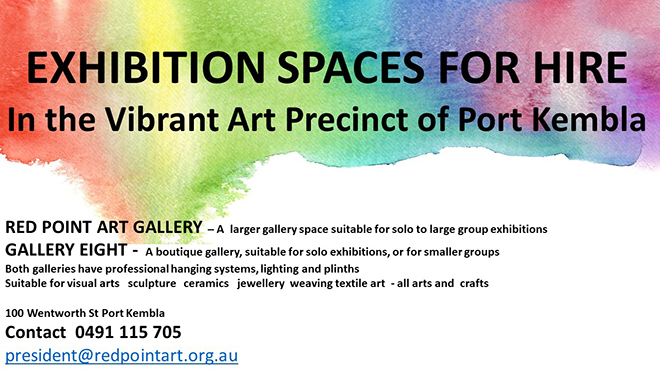 Red Point Gallery Hire Agreement
Download or print :RedPointGalleryHireAgreement12 Feb19
WORKSHOPS and COURSES in WORKSHOP 6
RED POINT VISUAL ARTS:
All courses are conducted at Red Point Artists Workshop 6 in Kembla Court, 100 Wentworth Street, Port Kembla.
All tutors are professionals and recognised in their fields.
Please scroll down for information on individual courses.
Membership of Red Point Artists essential for all courses $30 per year.
WORKSHOP  6  CLASSES AND WORKSHOPS 2020
Monday Drop in Art Classes
Various Qualified Tutors
TUESDAY AFTERNOONS WITH KATHRYN ORTON
Workshop 6 with Kathryn Orton Red Point Artists, Port Kembla
WEDNESDAY DRAWING WITH JENNY JOHNSON
Workshop 6 Red Point Artists Port Kembla 
THURSDAY MORNING AND AFTERNOON WITH ANN CLARKE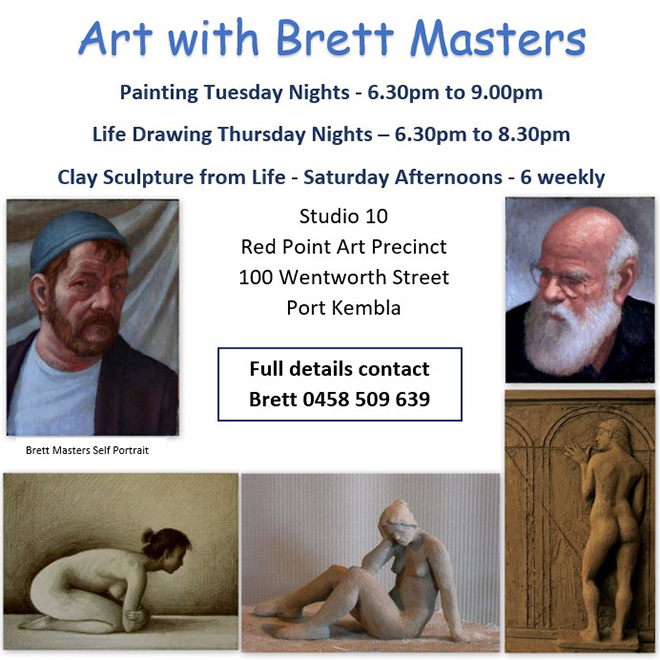 Brett Masters Workshop 10 Red Point Artists Precinct Port Kembla
CONTACT
Administration  Office
Studio 8
100 Wentworth Street,
Port Kembla
Open Wednesdays  10.30 am to 1.30 pm
Other times by appointment : 0491 115 705

President:
Naomi Arrowsmith
0491 115 705
president@redpointart.org.au
Secretary:
Julie Telenta
redpointartsecretary@gmail.com
Mail:
Attn: The Secretary
Red Point Artists Association Inc
P.O. Box 26
Port Kembla
New South Wales
2505
Banking Details
Direct Deposit Banking Details for Red Point Artists Association Inc Account:
IMB Bank (BSB 641 800) for RPAA Inc, A/c No. 200502859
Follow us on Facebook!
MEMBERSHIP
Membership fee of the association is $30 a year from July 1st .
A regular Art Mart is held on the second Saturday of each month and all financial members are eligible to sell their works in the courtyard at that event, free of any fees and charges. Every member is expected to promote the association's events and activities, to augment the constant publicity and marketing provided by RPAA committee members and colleagues.
Download Application for Membership Form: RPAA_Mem_Application_Form_Feb2017
Download Renew Membership Form: RPAA_Mem_Renewal_Form_220915
LOCATION
The RPAA arts precinct is located at Kembla Court, 100 Wentworth Street, Port Kembla.
The office is open from 10.30 am to 2.00 pm Wednesdays or by appointment.
A regular rail service operates from Wollongong to Port Kembla station, which is 500 metres from Kembla Court.
Premier buses Nos 43 and 65 coordinate to carry rail passengers from the station up Wentworth Street.
There is generous free parking in the vicinity (e.g., city council carpark opposite the RSL Club in Allan Street).
Wentworth Street parking, however, has a one-hour limit and a 40kph speed limit.